All of these places are easy to find, however if you dont have transport or fancy letting someone else drive we can arrange transport for you.
Hotnitsa Waterfall and Eco Trail      A stunning setting for a picnic to say the least! The Eco trail that rises above the waterfall leads to a magical setting of pools and rickety wood bridges for your exploration. The waterfall is a few minutes drive from Hotnitsa, you must head through the village and out onto the lane at the other side, as the lane inclines you turn right.
.
.
kljklj
Emen Eco Trail - Canyon and Caves
The Canyon starts with the cave and ends with the waterfall 'Momin Skok'. The caves in the summer are home to hundred of bats that fly above your head if you are brave enough to enter the cave. The walk along to the waterfall must be done in sensible shoes and it is well worth it.  Just the other side of Emen village from the Sofia road and up the hill. 
lkjlkj
Kapinovo Monastery       This is one of the largest in Bulgaria, the present building was built in 1825, there are beautiful protruding bays and open wooden verandas, with a peaceful courtyard it is a lovely place to see.  Spend time sunbathing and swimming in the rivers natural pools, some brave visitors dive from the rocks in to the river at the amazement of the onlookers. To find this spot head to the village Velchovo and carry on until you come to it, it is NOT in the village of Kapinovo
Preobrazhenski Monastery      The Transfiguration monastery, the largest and most visited monastery in the Veliko Tarnovo region with valuable icons, books, paintings and wonderful architecture. On the south outer wall you will see the composition 'The Cycle of Life' reflecting the human life path, the beginning and the end. The views here are magnificent and you will enjoy the peacefulness of this lovely place.  On the main road north leaving Veliko Tarnovo.
Nikopolis ad Istrum     The remains of an ancient Roman town founded in 101 - 106 AD by Emperor Trajan. You will not be disappointed at what you see here, it is a fantastic site, most definitely one to visit. Head to the village of Nicoup north of Veliko Tarnovo.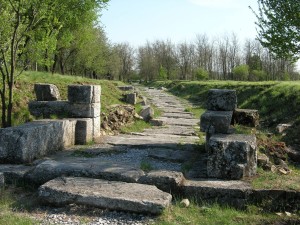 Dryanovo Monastery and Bacho Kiro Caves      Set in a gorge Dryanovski Monastery was chosen as the place to launch a local uprising in May 1876. Under the leadership of Bacho Kiro and the monk Hariton several hundred rebels defended the Monastery against 10,000 Turkish troops. Kiro was offered his life if he publicly repented - he was hanged when he refused. The caves have a small floodlit area with some interesting stalactite formations. Some Stone Age pottery and arrowheads discovered here are in a small museum in the monastery courtyard along photographs of Bacho Kiro and some rebel skulls.  There is also a good sized Rope Garden suitable for kids and adults.  On the Veliko Tarnovo to Gabrovo road.