Keep on top of that fast growing jungle with a regular gardening service, we now have 'Lucy' the ride on lawnmower to tackle the larger plots as well as the usual gardening tools available at our disposal.
Landscaping services can be provided and watering systems can easily be installed.
Summer kitchens and outside dinning areas are very popular with the wonderful Bulgarian climate, BBQ and seating areas can be fun to design and even more fun to use.
If you would like to install/build a pool - overground, liner, tiled - we have knowledge of all types, please let us know your requirements and we can provide a quote, organise any necessary building approval and manage the project for you.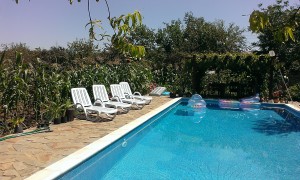 A good pool maintenance services is essential to keep your pool looking crystal clear but more importantly for your health and safety, it is crucial to regulate and monitor the chemical and PH levels on a regular basis.  Our pool maintenance expert has many years experience and is extremely reliable.